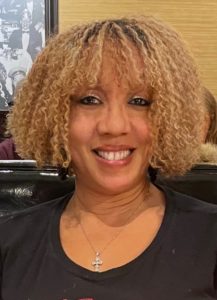 Wanda Carey, Administration in Charge
Greetings Tubman Families and Friends,
I am excited to assume the role of AIC at Tubman School and look forward to working together as we continue to sustain the great things that are already happening at Tubman. Over the next few weeks, it is my hope to implement systems and structures that will strengthen the overall school culture and climate. I have an open door policy, and operate with professionalism and integrity. 
Sincerely, 
Principal Carey
Bernadette Moore, Principal
Greetings Harriet Tubman Community,
It is with uttermost joy that I write this letter to you as Principal of Harriet Tubman Elementary School. I want to thank each member of the Local School Council for taking the time to review my application, conduct interviews, and ultimately select me as the new principal. Your dedication to the school and commitment to finding the best candidate for
this position is truly inspiring. I am privileged to be working alongside such a passionate and dedicated group of individuals. I am humbled by the trust and confidence you have placed in me to lead this prestigious school.
Your warm welcome and support have been astounding, and I am excited to be a part of this vibrant community. Our school is fortunate to have such resilient, compassionate, and dedicated staff. They are committed to ensuring that our students receive the best education possible, and I am honored to lead that mission.
As I begin my tenure as Principal, I want to assure you that I am dedicated to upholding the highest standards of academic excellence, equity, and inclusion. Every child deserves the opportunity to succeed, regardless of their background or circumstances. I will work tirelessly to assure that our students are given a positive learning experience, and that they are prepared to succeed in a rapidly changing world.
One of my top priorities as Principal will be to continue building strong relationships with students, teachers, parents, and caregivers. Creating a solid foundation for a successful school will include fostering community relationships, and I am devoted to developing a culture of respect, collaboration, and open communication. I will be available to listen to your concerns, answer your questions, and work with you to find solutions to any problems that may arise.
I will strive to make sure that our curriculum is challenging, engaging, and relevant to meet the needs of our students. Every child has the potential to succeed, and it is my responsibility to ensure Tubman's educators impart them with the knowledge that will enhance their future. Also, continuously working together to make instructional shifts that will yield positive student outcomes. 
Finally, I want to thank the broader community for their ongoing support of Tubman Elementary School. Our school is fortunate to have such a strong network of parents, volunteers, and partnerships, and I look forward to collaborating with all of you to continue to make Tubman Elementary a place where every child can thrive.
Thank you again for this incredible opportunity, and I look forward to collectively creating and implementing a vision that will optimize the learning experiences of all Tubman children.
Warm Regards,
Principal Moore
bamoore1@cps.edu
Meet Our Faculty and Staff
Ms. Sutton
6th Grade, Room 304, Language and Literature, Individuals and Societies
tmsutton1@cps.edu
Ms. Robertson
8th Grade, Room 308, Language and Literature, Individuals and Societies
tsrobertson@cps.edu
Primary Years Program (PYP) Classrooms
Pre-K
Kindergarten
First Grade
Middle Years Program (MYP) Classrooms
Sixth Grade
Room 304 - Tiffany Sutton,

Language and Literature, Individuals and Societies
tmsutton1@cps.edu
Seventh & Eighth Grade
Room 306 - Ellen Lipo,

Language and Literature, Individuals and Societies.
emlipo@cps.edu
Room 308 - Toni Robertson,

Language and Literature, Individuals and Societies
tsrobertson@cps.edu
Media and Technology
International Baccalaureate
Intervention & Restorative Justice
Physical Education
Counseling