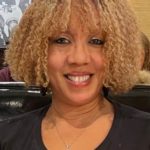 Wanda Carey, Administration in Charge
Greetings Tubman Families and Friends,
I am excited to assume the role of AIC at Tubman School and look forward to working together as we continue to sustain the great things that are already happening at Tubman. Over the next few weeks, it is my hope to implement systems and structures that will strengthen the overall school culture and climate. I have an open door policy, and operate with professionalism and integrity. 
Sincerely, 
Principal Carey
Bernadette Moore, Assistant Principal
Greetings Harriet Tubman Community,
It is with uttermost joy that I write this letter to you as the Assistant Principal of Harriet Tubman Elementary School. The entire Tubman community is a unique and special place that I am incredibly excited to be a part of.
I have been committed to the Chicago Public Schools for 15 years. I have been a classroom teacher, and most of those years I taught middle school.  Along with that, I engaged in leadership roles such as MYP Teacher Leader, ILT Facilitator, Data Strategist, School Scheduler, Technology Coordinator, and LSC Teacher Representative.  Throughout my career, I followed the advice of Abraham Lincoln, who said, "I will prepare, and someday my chance will come." Over the past eight years, I have been a student of my profession, and worked untiringly to develop and improve my skill sets.  I participated in every training available to remain relevant and relatable both academically and emotionally.
I pride myself on being a person of integrity and trustworthiness. I am a lifelong learner, who is passionate about education and helping students achieve success. I lead by example and model collaborative leadership with all stakeholders. In doing so, I ensure that everyone's perspectives are acknowledged and valued. Honoring all perspectives is important to me because that creates a positive foundation among every stakeholder.
In my life, I strive to maintain balance, and a healthy mix of work and play. Outside of my professional career, I enjoy spending time with family, exploring new adventures, reading, traveling, walking, and watching sports.
I look forward to meeting all of you, and please do not hesitate to contact me with any questions, concerns, or issues.
Warm regards,
Bernadette A. Moore
bamoore1@cps.edu
#WeAreIBBulldogs
Kimberly Gibson, Principal
Greetings Tubman Community,
My name is Kimberly Gibson and I am honored to be the Principal of Harriet Tubman Elementary. My love for learning began as an elementary student and continues throughout my life. I am a proud product of Chicago Public School (CPS). I have had many roles in my career at CPS and it appears that each role has helped me to remain humble, develop deep respect for each unique role of all stakeholders in education, and have helped to prepare me for my current role. My love for children and the desire to leverage partnerships with families and stakeholders in order to provide them with the best education possible is my motivation to be a school leader. This passion has blossomed from my experiences as a Student, Parent, Parent Volunteer, Teacher- Assistant, Special Education Teacher, English Language Proficiency Teacher, Bilingual Coordinator, Mentor/Coach in the CPS Teacher Residency Program, Resident Principal and currently, I am beginning my tenure as Principal of Tubman. I have over 23 years of experience in education and have served in every grade level in some capacity from pre-k-8th and these experiences have helped me to develop a better understanding of the skills students develop as they progress through their elementary education.
I am a Chicago native and I was born and raised on the Westside of Chicago. I am the proud parent of eight wonderful children and I live in the North Lawndale Community. My journey to educational leadership includes a Bachelor's Degree in Early Childhood Education with Special Education Endorsement from Kendall College, Master's Degree in Curriculum and Instruction with my ESL and Bilingual Endorsement from National Louis University (NLU), Educational Specialist Degree in Educational Leadership with my Administrative Endorsement and Superintendent Endorsement from NLU, and I am currently completing my Doctorate Degree in Educational Leadership. I am committed to being a lifelong learner and strive to use my vast leadership experiences to support the amazing community at Tubman and continue to ensure all students have access to a quality education.
I have gained valuable leadership skills through my vast experiences in CPS that I will continue to develop as the Principal of Tubman. These leadership skills have equipped me with insights through a different lens regarding the many challenges students face within schools. I have a strong belief that all students can learn with the proper support, resources, and high expectations set for them. I will continue to actively advocate for equitable outcomes in education for all students. I am excited to support the Tubman students, staff, and Tubman Community. I look forward to learning and growing within the Tubman Community. I am resolute in my belief that my role as principal is to put students at the forefront of all decisions, support teachers, and meaningfully engage with parents and community members through shared leadership. Please feel free to contact me at any time with any questions, comments, or concerns. If I do not have an answer I will work collaboratively with the administrative team and district representatives to help find one.
In partnership,
Meet Our Faculty and Staff
Ms. Sutton
6th Grade, Room 304, Language and Literature, Individuals and Societies
tmsutton1@cps.edu
Ms. Robertson
8th Grade, Room 308, Language and Literature, Individuals and Societies
tsrobertson@cps.edu
Primary Years Program (PYP) Classrooms
Pre-K
Kindergarten
First Grade
Middle Years Program (MYP) Classrooms
Sixth Grade
Room 304 - Tiffany Sutton,

Language and Literature, Individuals and Societies
tmsutton1@cps.edu
Seventh & Eighth Grade
Room 306 - Ellen Lipo,

Language and Literature, Individuals and Societies.
emlipo@cps.edu
Room 308 - Toni Robertson,

Language and Literature, Individuals and Societies
tsrobertson@cps.edu
Media and Technology
International Baccalaureate
Intervention & Restorative Justice
Physical Education
Counseling