Friends of Tubman is an all-volunteer group of parents and community members dedicated to making Harriet Tubman Elementary a great school for all students through fundraising and community outreach events.
Please subscribe to our mailing list to receive  information on upcoming fundraisers, community events, and to learn how to can get involved.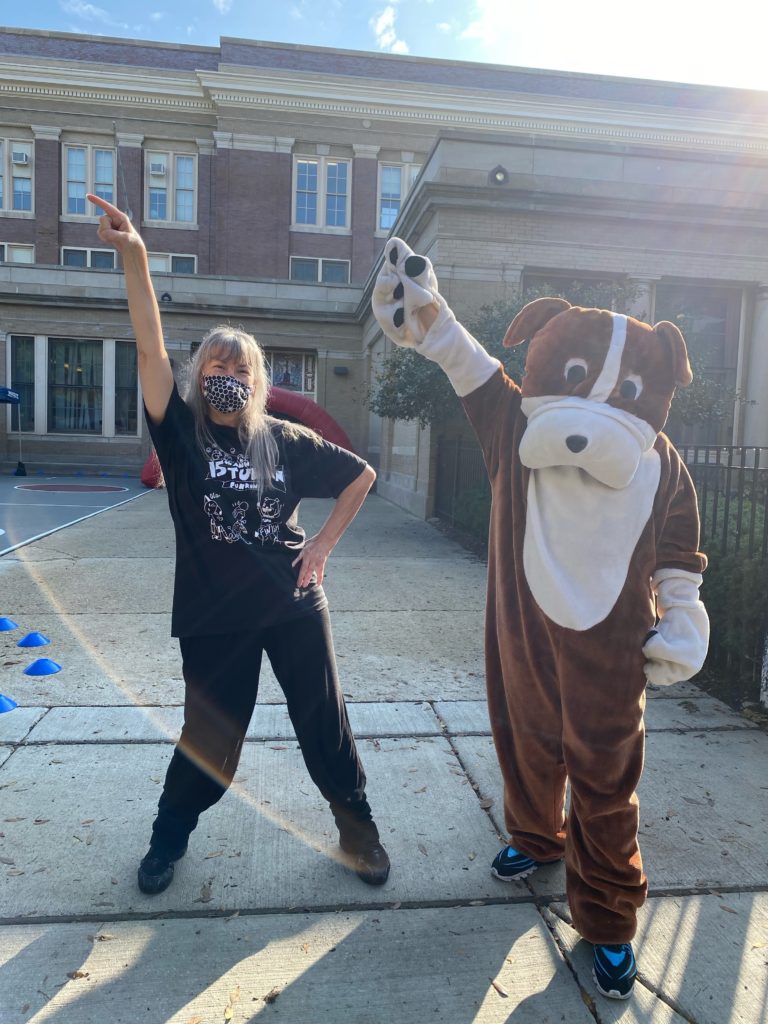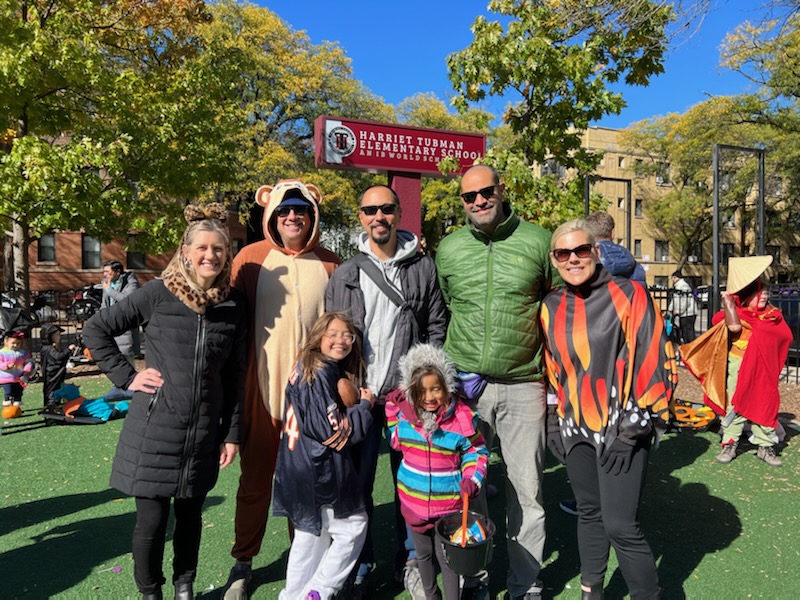 Upcoming Events & Fundraisers
17th Annual Tubman Fun Run
Register Today
Registration is now open for this year's Fun Run! Our goal is to raise $40,000 for school needs such as technology upgrades and staff professional development. Registration is easy and free; visit MYBOOSTER.COM now to get started. This is the first step to help our school reach our fundraising goal this year and, once you're registered, you have access to all of the fun sharing and donation features to help us raise funds. Each student will receive one FREE PIZZA gift certificate from Lou Malnati's simply for registering!
More information, including nightly challenges, will be coming soon as we count down to the 17th Annual Fun Run on October 6th! Friends of Tubman appreciates ALL forms of support, whether it's through volunteering, financial donation, or by spreading the word about our school and events. All students will participate in the 17th Annual Tubman Fun Run. 
Key Dates:
9/13: Registration open for 17th Annual Fun Run, visit mybooster.com
9/27: Kickoff for 17th Annual Fun Run
10/6: 17th Annual Fun Run at Tubman
What is the Tubman Fun Run?
Every fall our community comes together to raise essential funds for our school. This fundraising effort culminates in an exciting event for our students where they run laps around a track at Tubman.
In the week leading up to the Fun Run, students will be given nightly challenges to help reach fundraising goals while earning incentives and prizes along the way. On the day of the Fun Run, all students will receive a free Fun Run t-shirt with this year's winning design.
Our primary students will enjoy a glow-in-the-dark track in the gym while our older students will run through a rainbow of colors outside during a color run. The Fun Run is NOT a race; think of it as a jogging dance party with TONS of laughs and excitement along the way.
Grab your pom poms and bells to help cheer on your student on race day, we welcome our community to join for this special Tubman tradition.
Fun Run in the Gym
Pre-K and K: 8:15-9am
1st and 2nd: 9-9:45am
3rd and 4th: 9:45-10:30am
Color Run Outdoors
5th-8th: 1:15-2pm
A Note About the Color Run
The color run is modeled after a national running series in which colored powder is thrown as runners pass. The origins of throwing colored powder began with Holi, a Hindu festival celebrating the arrival of spring and the triumph of good over evil. Holi, also known as the Festival of Colors, is a national holiday in India and typically takes place between the end of February and the beginning of March. In 2024, Holi will take place on March 25th. We feel it is important to highlight that color runs are not celebrations of Holi, but inspired by it, and that Holi is an important cultural holiday that should be acknowledged when its traditions are imitated. Click HERE to learn more about Holi, its origins and how it is celebrated around the world.
Popcorn Friday is Back!
See all the delicious details about this favorite fundraiser in the flyer below and click HERE to sign up for a subscription now! Popping begins September 29th.
Spirit Wear Store Coming Soon
Stay tuned for more information about the Tubman Spirit Wear store coming in Oct!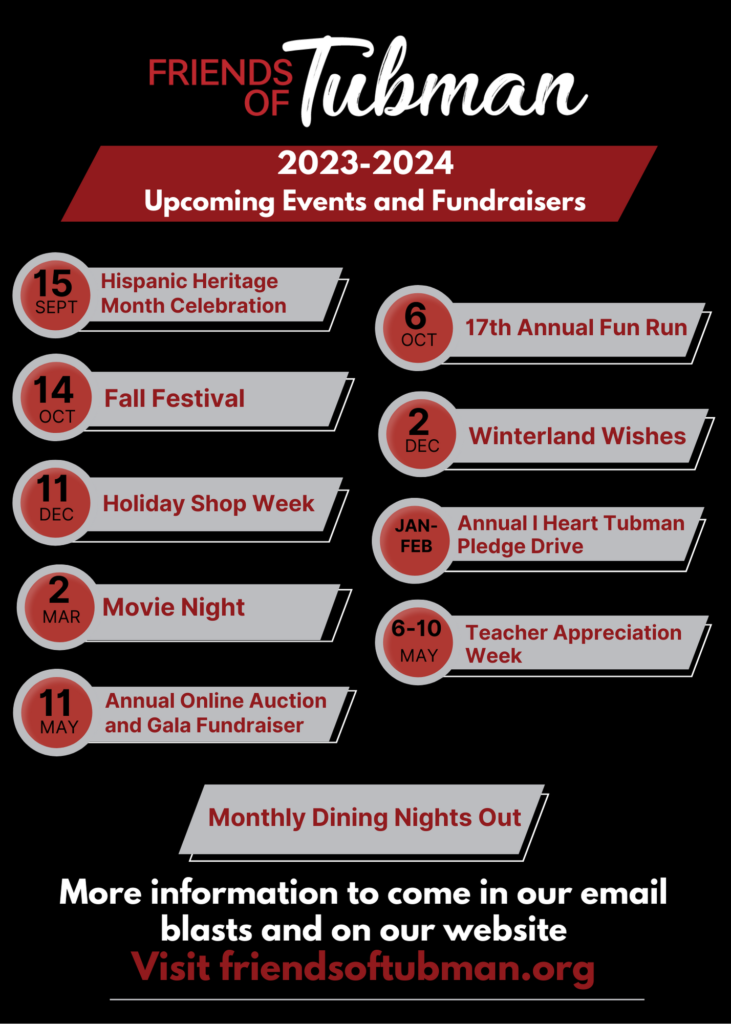 Thank you to all our generous donors over the years. We are so grateful for all the support. To donate to our GENERAL FUND, please follow the link.
FOT is pleased to announce our second annual school Assistance Program Fund aimed at supporting our entire school community; both staff and families.
This fund has been created by both FOT & Administration with the goal of supporting families who have been suffering financial hardships during these unprecedented times. The fund aims to offer immediate assistance with various items and services such as:
Emergency food, clothing and household items

School supplies
Any additional items not specifically addressed above will be looked at on a case by case basis.
ALL REQUESTS WILL BE KEPT CONFIDENTIAL.
For more information and to receive immediate support, please email: assistanceprogramfund@gmail.com
For those who would like to donate to this fund:
CLICK  HERE  TO DONATE TO THIS FUND.
Accomplishments
FOT has provided financial support for a number of initiatives that would have otherwise been cut due to budget constraints.
Membership
All parents and community members are welcome and encouraged to join Friends of Tubman. Your participation, support and ideas can help shape Harriet Tubman Elementary into the school you want it to be.
All meetings will be on Zoom for the foreseeable future. A link will be emailed prior to each meeting.
Meeting dates for the 2023/2024 year:
September 28

October 19

November 16

January 25

February 29

March 21

April 25

May 30 - Annual Elections
For more information, please contact FOT President, Patti Lenkov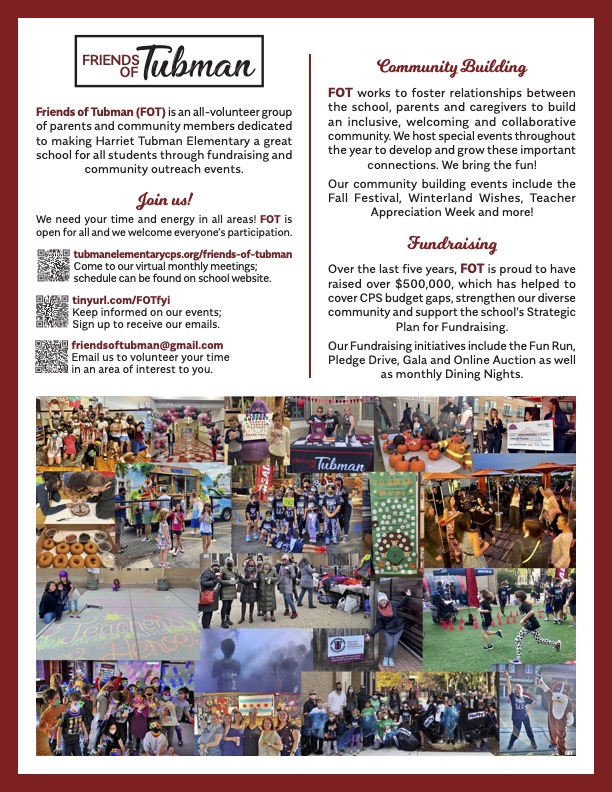 Strategic Plan for Fundraising
In the last 5 years, we have raised over $500,000, which helps cover CPS budget gaps, strengthen our diverse community and support the school's Strategic Plan for Fundraising. Tubman Elementary School's fundraising goals are all directed towards supporting the Continuous Improvement Work Plan and the school vision and mission.
Short-term goals include funding arts, drama and dance programming, as well as supporting vital staff positions, investing in classroom technology, providing science lab supplies and repairing playground equipment. Long-term goals include renovating the gymnasium/auditorium.
Fundraising Initiatives
FOT supports our school with a variety of fundraisers and community events throughout the school year. See below for info on our annual fundraisers.
Each fall, the Fun Run, now in its 17th year, encourages family, friends and neighbors to sponsor students while highlighting our school's commitment to healthy habits. The 2022 Fun Run fall fundraiser, raised just under $50,000
In winter, the I ♥ IB Bulldogs Pledge Drive gives families the chance to show their appreciation for the school and what they love most. Families are encouraged to donate any amount they're comfortable with, whether it's a one-time amount or monthly.
Spring is host to two fundraisers: the Online Auction and Gala. The annual auction gives school families, their friends and neighbors across Chicago, plus over 300,000 bidders nationwide, the chance to bid on great items while supporting our school. The Spring Gala is an adults-only night full of fun, bidding and refreshments held in Chicago. Our 2022 Gala raised over $50,000.
Community outreach events include monthly Dine Out nights (currently Dine IN nights) at popular area restaurants, with a portion of proceeds going to the school. It's a delicious way to support local businesses while benefiting our neighborhood school. Past participants include Lou Malnati's, Panera, McDonalds, Potbelly, Chipotle, Pockets and DMK Burger.
Charlotte Thoresen
Vice President
Friends of Tubman is an all-volunteer group of parents and community members dedicated to making Harriet Tubman Elementary a great school for all students through fundraising and community outreach events. Friends of Tubman operates independently of the school as a non-profit 501(c)(3).